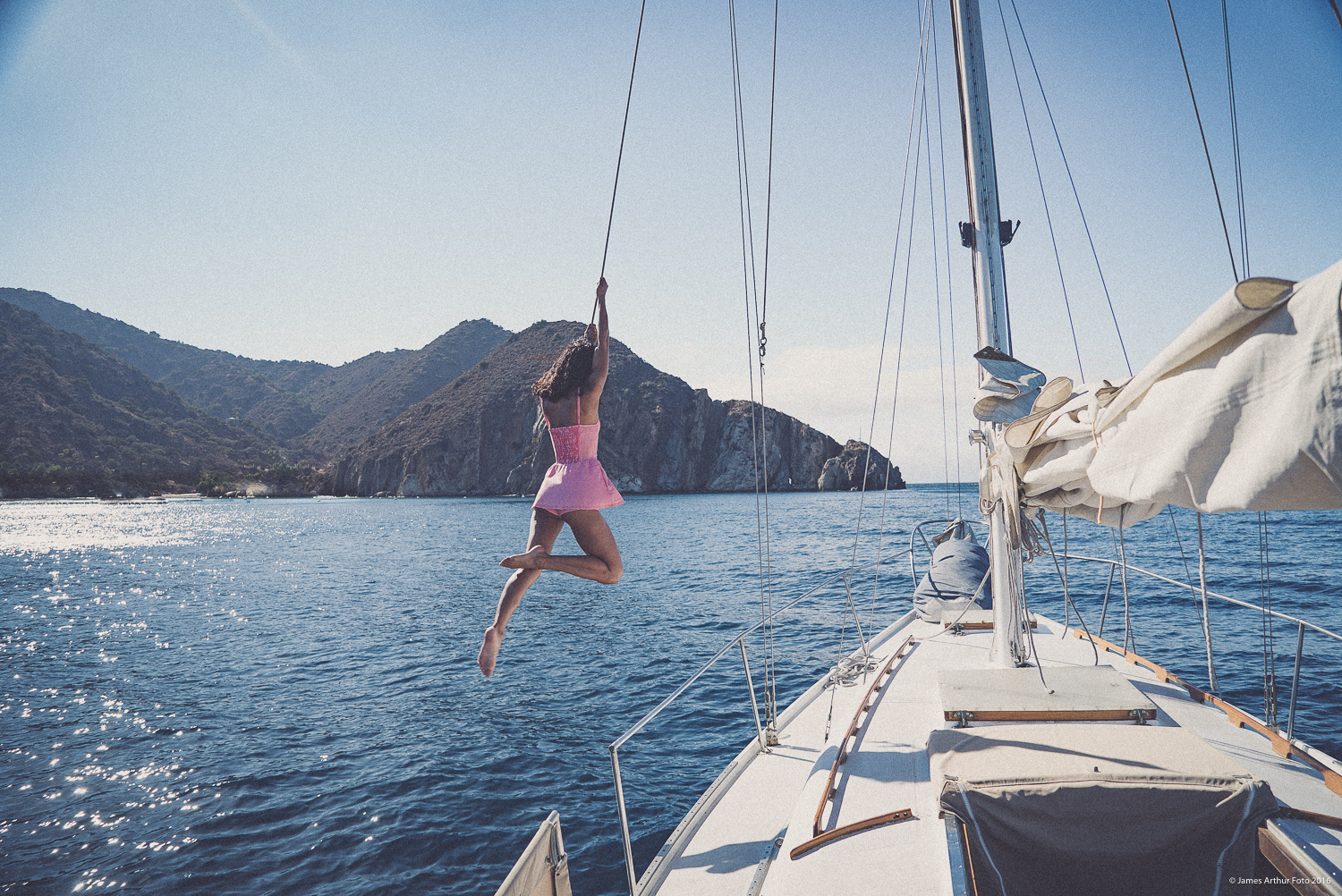 Daniella doing her best Tinker Bell impression as we approach Neverneverland
Catalina is only 5 hours away from Los Angeles via sailboat, however the experience of crossing the channel on a foggy day, or at night under the stars, both of which we have done, can makes the experience feel like a fairy tail adventure to the mythical Neverland.
Catalina Fall 2015
We sailed to Catalina on a Thursday and returned on a Sunday.  Leaving Marina del Rey just before sunrise at 5:30 am, there was little to no wind and lots of fog on the way there which forced us to motor sail most of the way.  However the calm conditions provided an easy sail with multiple dolphin and whale sighting as we passed Palos Verde and set out across the channel.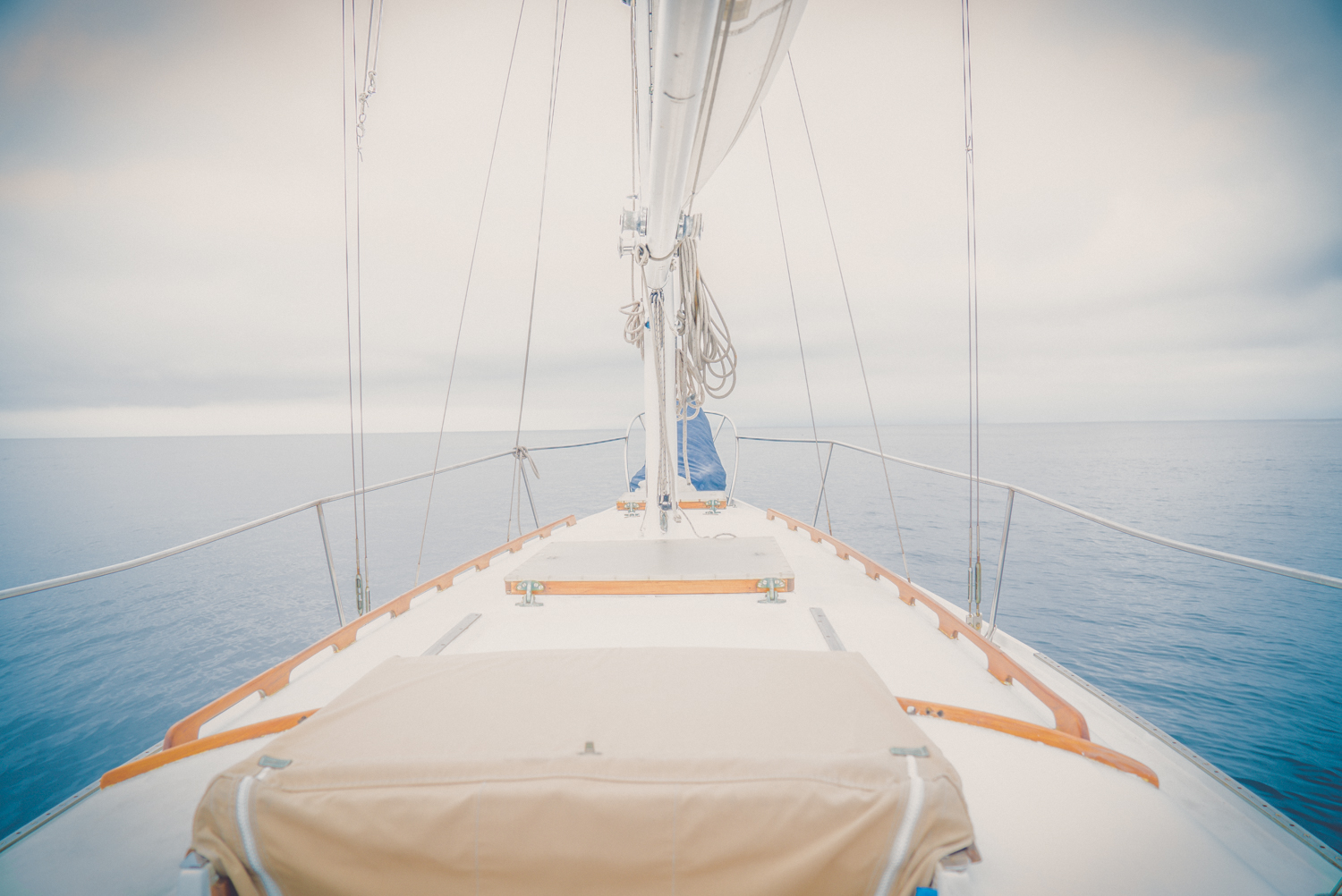 Arriving to Avalon just before 1PM, we got a mooring at Hamilton Cove which does not provided the best shelter but it is right in front of the villa rental our friends from at The Jetset Diaries secured for the collaboration we did for this HOLIDAY 2015 – CAPRI campaign shot on our boat and sailing around Hamilton Cove.
"A ship is safe in harbor, but that's not what ships are for." —
After meeting up with The Jetset Diaries crew, we sailed up the coast from Avalon toward Two Harbors for some test shots and more location scouting of the condition of the empty beaches and access to sheltered anchorages.  It was a little windy to make landing on the beaches but made for great sailing and a we got back in time for dinner at a great authentically local seafood restaurant.
Yvon Chouinard famously said, it's not an adventure until something goes wrong, well the next day started with a proper boating adventure as the engine would not engage due to an apparent issue with the gear box.  Lucky this is a sailboat and I consider myself a real sailor… So with the whole crew on board I simply checked the wind, hoisted the mainsail, prepped the genoa to half mast, and on we cue threw the mooring line while I hoisted the genoa for an immediate tack to sailed off the ball, between  few other boats and out into the channel…  The rest of the day is a blur racing from tack to tack up the coast to get through the entire shot list and be back in time to get their model back on her scheduled Sunset ferry ride back to Long Beach.
The next morning with very light, almost non workable winds we set out again on our auxiliary-motorless sailboat across the channel looking for luffs of wind to carry us home.  After hours of bobbing along in glassy seas, we finally picked up some winds around noon.
As we approached Palos Verde we sailed right through a super pod of spinner dolphins converging on a bait ball with bottle nose dolphins, two grey whales and thousands of sea birds.  Truly a memorable experience.  From there back to Marina del Rey, the wind picked up significantly, to the point that we were over powered and had to reduce sail to keep the rail out of the water as waves regularly splashed over the bow into the cockpit.  Daniela was not very happy at this point… However the boat handled perfectly and I sailed us right into our slip under main sail alone just as the last light of day dissipated.
Daniella Smith (@DaniellaEllaSmith) is one of the most original new musicians in Los Angeles today.  Alongside her husband, James Arthur (@jamesarthurfoto) they are passionate about travel, health, sustainability and creativity.  James Arthur (@JamesArthurFoto) is a photographer and entrepreneur who provides creative and brand strategy, film and stills production, digital and social media and photography exhibitions.
All images are under copyright © James Arthur Foto